I figured it was time to put some new internet freebies up so here go's.
______________________________________________________________
MEqualizer
is a 6-band equalizer unit available for both PC (32-bit and 64-bit) and Mac Osx computers.
It's just a very nice Equalizer with great, customizable GUI combined with spectrum analyzer and useful frequency / drums / octave map graphic. All in one screen, all very handy. There are 7 filters for each band: peak, low-shelf, high-shelf, low-pass, high-pass, band-pass, notch, there are 8 different channel modes (left - right, mono, stereo etc.). Also, there is saturation slider - move it more the right and it will simulate analog equalizers.
http://www.meldaproduction.com/freevstplugins/mequalizer.php
Overall, very polished product - there is also a bigger brother, commercial version.
______________________________________________________________
sfZed
is a free visual editor dedicated to SFZ files 1.0 specification. The editor works with audio samples to map them to the keyboard, and shape them to create the sound you want. It can also convert SoundFont (SF2) format to SFZ, giving you the opportunity to change some settings, do some fixes etc. Sfz format contains over 200 settings like velocity sensitivity, loops, reverb, EQ and controller settings to create the sound you want for your music.
Overall, if you have a Sampler plugin which supports SFZ format (ie. discoDSP HighLife, WusikStation etc.) but at the same time you have some old soundfont (SF2) files you would like to use then sfZed may be a very helpful tool...
http://audio.clockbeat.com/sfZed.html
______________________________________________________________
discoDSP HighLife 1.4
---
Freeware sampler with VSTi sampling, sample editor, five built in effects, flexible modulation, parameter morphing, highest offline resampling quality using 512 point SINC. Exports VSTi to WAV and SFZ formats.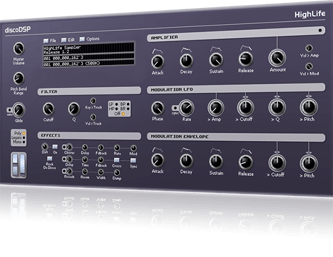 ______________________________________________________________
Musical Instrument Samples
Each note is approximately 2 seconds long and is immediately preceded and followed by ambient silence.
Some instruments are recorded with and without vibrato. String instrument recordings include arco (bowed) and pizzicato (plucked). The only non-anechoic instrument is the piano, which was recorded in a small faculty teaching studio.
All samples are in mono, 16 bit, 44.1 kHz, AIFF format. The exception is the piano, which is recorded in stereo.
The Anechoic Chamber in the Wendell Johnson Speech and Hearing Center is housed in a 27,000 cubic foot space (30' x 30' x 30') that is isolated from the rest of the building. The chamber is further isolated within the "vault" in that its contact with the floor, walls, and ceiling is through a series of springs. The 36" baffles which fill the floor, walls, and ceiling contribute to sound absorption properties that extend down to 60 Hz.
Please feel free to use these samples in your research or music projects without restriction.
* Woodwinds
o Flute
o Alto Flute
o Bass Flute
o Oboe
o Eb Clarinet
o Bb Clarinet
o Bass Clarinet
o Bassoon
o Soprano Saxophone
o Alto Saxophone
* Brass
o French Horn
o Bb Trumpet
o Tenor Trombone
o Bass Trombone
o Tuba
* Strings
o Violin
o Viola
o Cello
o Double Bass
* Piano/ Other
o Piano
o Balloon Pop
http://theremin.music.uiowa.edu/MIS.html
______________________________________________________________
MIDI sequencer software "Sekaiju"
"Sekaiju" is free, open source MIDI sequencer software for creating and editing MIDI data. This software enables you to create music with your MIDI modules or synthesizers. Sekaiju also can be used as a powerful MIDI editor.
Multiple MIDI data can be opened. This is a MDI (Multi Document Interface) application.
Multiple tracks can be viewed and edited in the track list window, piano roll window, event list window, and musical score window.
All kind of MIDI events including meta event and system-exclusive event are editable.
Unlimited undo and redo.
Both TPQN base at the resolution (time-base) from 1 to 960 and SMPTE24/25/29.97/30 base at the resolution 1 to 255 is supported. Time mode and resolution can be changed at any time.
Sekaiju sequence file(*.skj) import and export.
Cherry sequence file(*.chy) import and export.
Standard MIDI file(*.mid) format 0/1/2 import and export.
MIDICSV file(*.csv) import and export.
Auto back up(from 1 minute to 120 minutes interval).
16 MIDI input ports and 16 MIDI output ports can be used at the same time.
Real time recording with metronome, which can be inputted to multiple track.
Auto repeat from CC#111 position, which is used as a repeat marker in "RPGツクール" software.
Intelligent playback which prevents garbled sound, wherever position you started.
Synchronized recording which starts at your keyboard playing.
MIDI Timing clock for syncronizing may be received and sent.
Instrument definitions are compatible with Cakewalk's instrument definition file(*.ins).
Only extracting zip file is required to execute. No need to install.
All GUI and docoumentations are bilingual (Japanese and English).
In Sekaiju2.2 or later, musical score window is implemented.
______________________________________________________________
microtonal music composition software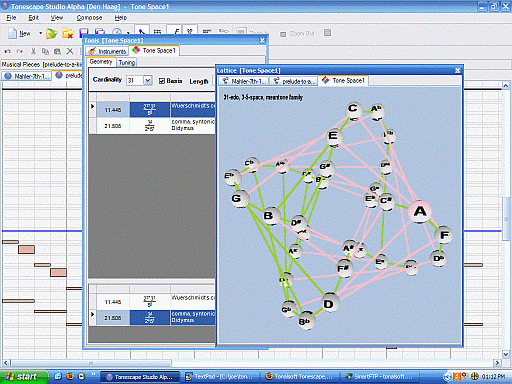 Tonescape is:
a music composition application which allows the user to create any imaginable tuning and compose music using those tunings;
a valuable analytical tool which aids in the understanding of tuning theory and the various qualities of different types of musical tunings;
a fun and easy-to-use application offering hands-on exploration of historical issues with which music-theorists have been concerned, thus facilitating a deeper understanding of music-history.


There are three native types of files used by Tonescape :
musical pieces (.tonescape)
tunings (.tuning)
tonespaces (.space)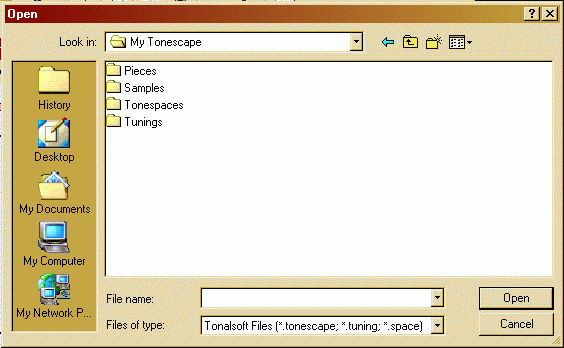 Tonescape comes bundled with several examples of each type of file, so that you may simply open them and jump right in to start learning your way around. Each help section will begin by showing you how to open, view, and listen to a sample file. Once you are familiar with these basic operations, you can dig further into the help topics by learning how to edit the sample files, and finally, how to create your own original files.
Tonescape offers the Lattice View as a way to see a rotatable 3-dimensional geometrical model of the mathematics of your tuning. (Tonescape tunings may actually have up to 7 dimensions, but of course for systems with more than 3 dimensions, they can only be projected into 3 dimensions.)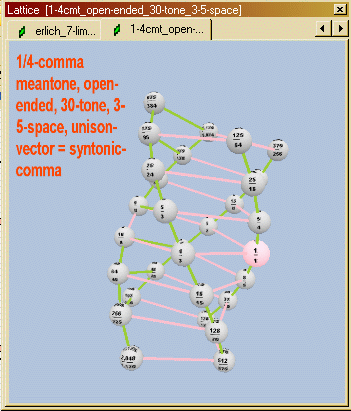 When you play your composition in Tonescape's native Musical Piece format (the .tonescape file), you not only hear the music, but you also see the notes highlighted in real-time on the score -- in any of several different types of musical notation systems -- and on the Lattice View as well.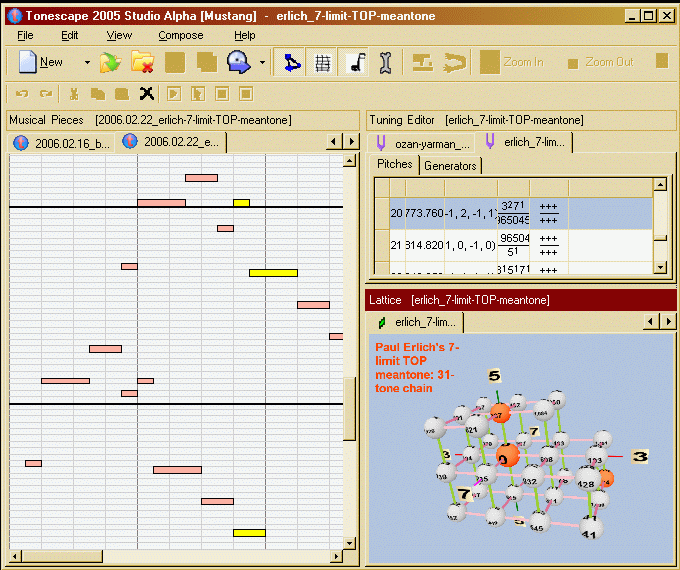 Version 1.0 of Tonescape offers Pitch-Height™ notation, the most obvious and basic form of musical pitch representation. Future releases will offer traditional staff-notation, as well as both non-traditional modifications of staff-notation and many other types of musical notations.
For the purposes of sharing your compositions with people who do not have Tonescape, in addition to the native format, you can also export your .tonescape files to a number of other audio formats:
.mp3 (compressed digital audio)
.wav (digital audio)
.aif (digital audio)
.mid (MIDI)
.csd (Csound unified .orc-and-.sco file)
The download is on the first page and kinda hard to see.
http://tonalsoft.com/
Free Synth Sequencer For Windows, Picatune 2 Released 25Jul11
Developer Benjamin 'BeRo' Rosseaux has released Picatune 2, a free synthesizer / sequencer hybrid for Windows.
Features:
Many different oscillator waveforms, filters, distortions and a lot of other stuff.
Freeform sampleexact modulaton patternbased envelopes (the main reason why Picatune2 may use slightly more CPU time than other comparable synths)< .
* Modular operator-based (like .werkkzeug).
* S3M/IT-like effect commands.
* Sample exact modulations.
* Sample support.
* Speech synthesizer.
* PADsynth algorithm.
* 10-band equalizer.
* Multithreaded for muklticore systems.
* Export song as win32 executable.
http://audio.rosseauxnet.de/software/sequencer/picatune2/
______________________________________________________________
S P E A R
Sinusoidal Partial Editing Analysis and Resynthesis
This software is free and is useful for re-pitching and changing the length of your wav files for your samplers.
It is very powerful but has a somewhat different interface so read the manual. Think of it as a much less powerful Melodyne but hey its free.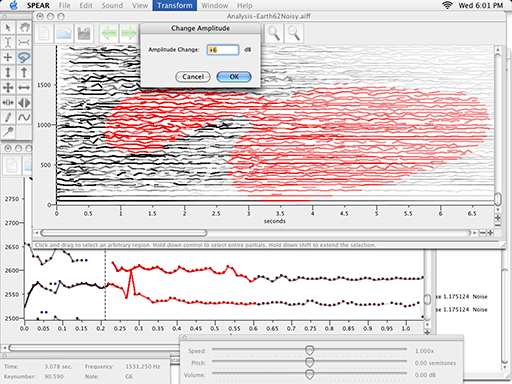 Windows and Mac Installers
http://www.klingbeil.com/spear/
______________________________________________________________
This software is for studying audio files.
Sonic Visualiser
The aim of Sonic Visualiser is to be the first program you reach for when want to study a musical recording rather than simply listen to it.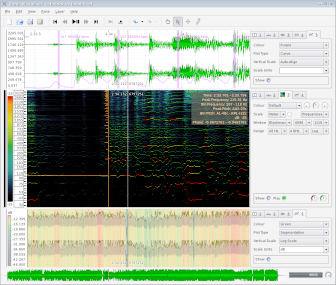 We hope Sonic Visualiser will be of particular interest to musicologists, archivists, signal-processing researchers and anyone else looking for a friendly way to take a look at what lies inside the audio file.
Sonic Visualiser is Free Software, distributed under the
GNU General Public License
(v2 or later) and available for Linux, OS/X, and Windows. It was developed at the
Centre for Digital Music
at Queen Mary, University of London.
http://www.sonicvisualiser.org/
______________________________________________________________
Traverso DAW
Is an audio recording and editing program which is very well suited to record a single voice, a band, an ensemble, a whole orchestra or any other source of music!
Both the home and professional user will find Traverso attractive, it's clean interface is easy to learn, and enables you to work quickly and efficiently!
Scalable by design
Traverso is designed to be highly scalable. It can be used for on stage recording using only a simple netbook, due it's great real screen estate and optimized audio engine, or use it on a powerful box with hundreds of tracks, easily managed using track folders!
Management
Create an Album in Traverso, and record/edit all your Songs from there, apply effects to each Song or to all Songs by using the Album Mixer, and burn it to CD!
Installers for Linux, Mac OS X or Windows!
http://traverso-daw.org/cross-platform-multitrack-audio-recording-a...
______________________________________________________________
Seq24
Seq24 is a minimal loop based midi sequencer.
It was created to provide a very simple interface for editing and playing midi 'loops'. After searching for a software based sequencer that would provide the functionality needed for a live performance, such as the Akai MPC line, the Kawai Q80 sequencer, or the popular Alesis MMT-8, I found nothing similar in the software realm. I set out to create a very minimal sequencer that excludes the bloated features of the large software sequencers, and includes a small subset of features that I have found usable in performing.
http://www.filter24.org/seq24/about.html
______________________________________________________________
LoudMax is a Look-Ahead Brickwall Loudness

Maximizer Plugin with a clean transparent sound.

It is designed to retain the original character of the music

as much as possible even at high compression levels.

This one is free and works fairly well.

______________________________________________________________